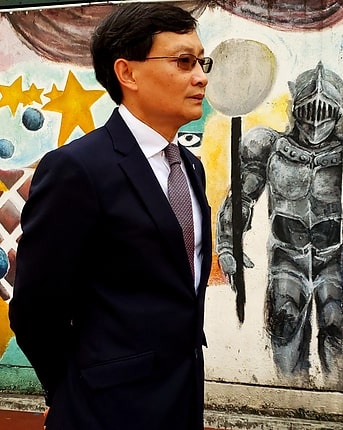 Cheung Sha Wan Catholic Secondary School is renowned as a traditional English boys' school providing all-round education to the students.
The vision of our school is to gain recognition as one of the leading Catholic Schools in Hong Kong in character building, academic achievement, community service and extra-curricular activities. We share the universal mission of Catholic Schools in the education of the whole person, spread the Gospel and lead students by example to live a life according to the Christian spirit, inspire students' positive values and develop students' spirit of service and inspire students to strive for excellence according to the school motto of "Self-strengthening and continuous improvement".
Due to unfavourable background of most of the students in Sham Shui Po district, we always need extra resources to provide each student with a variety of learning opportunities. In the past years, we have tried our best to strengthen the whole person development of every student. We hope they can develop their talents regardless of their backgrounds to reach their full potential. We express our heartfelt thanks to our alumni and the public who have been providing support and resources for us to achieve this goal.
Children should have the right to live life to the fullest regardless of their financial backgrounds. We will continue to better equip the students with different skills and inculcate positive values among them in order to prepare them to face the upcoming challenges.
In the past 40 years, we have nurtured a considerable number of graduates with high achievement in different fields and strong sense of belonging to the school. Our education rationale has been highly recognized by the outsiders.
To extend our education rationale and missions, I will support the "CSWCSS All-round Education Foundation Limited" initiated by our former chairperson of Alumni Association, Mr. Fong Sai Ho, for the school's sustainable development. The contribution of Mr. Fong to the Alumni Association is undeniable and his enthusiasm to be a communication bridge between stakeholders has high reputation. I would be grateful to have all of your support.
Calepodius Poon Shing Kai (Principal)
Cheung Sha Wan Catholic Secondary School
27 August, 2018